'Who you are tomorrow begins with what you do today'
Our Sixth Formers progress to amazing destinations [insert stats], and this journey starts the moment they join Sixth Form in Year 12. We provide our students with a range of opportunities to support their studies, explore academic and career interests, and discover different options for future pathways. This page will be constantly updated with new activities to sign up for.
Opportunities
---

Hull University: Law Conference
The University of Hull's Law School is holding a Virtual Conference on Wednesday 9th December, from 10.00 am to 12.45 pm to which we hope to welcome your sixth form students.
I have attached a programme pdf which outlines the schedule of the event.  The conference will provide an opportunity for participants to explore a number of critical legal topics as well as gain some insight into life as a Law Student, and there will be opportunity for participants to ask any questions they may have for either academic staff or current Law Society students.  Professor Stephen Hardy, our newly appointed Dean of the Faculty of Business, Law and Politics, is himself a current tribunal judge and will be able to provide useful insight into employment law amongst other areas of expertise.
I hope your students are able to take part and find it both enjoyable and useful. Registration for the event is via this link:  https://register.gotowebinar.com/register/1960360373884518669
---

Teesside University Health and Social Tasters
https://www.tees.ac.uk/sections/whats_on/events.cfm

York University Nuclear Physics Masterclass
Join the Department of Physics at the University of York and leading experts from around the world for a Nuclear Physics Masterclass.  Find out more about cutting-edge research in Nuclear Physics and applications of nuclear technologies.
This four-week programme is suitable for students studying Physics in years 12 and 13 (S5 and S6 in Scotland) and allows for flexible learning in or out of the classroom.
Sign up here
---

Oxford Women in Computer Science
A digital programme for year 11 & 12 girls at UK state schools.
January – August 2021. Montly sessions. First session: Thursday 28th January 2021
The Oxford Women in Computer Science (OxWoCS) Challenge club is a new initiative created by the Oxford Women in Computer Science society alongside the Oxford Department of Computer Science. It aims to create a community of young women with a passion for mathematics and its applications.
The club will consist of monthly mathematical and Computer Science related problem sheets which will be sent out for students to solve. These problems are designed to stretch and challenge students beyond the standard syllabus and give them an insight into some of the many interesting ways in which they can use mathematics. At the end of each month, students will take part in a discussion lead by an Oxford Computer Science student to discuss the problems including solutions, techniques, and areas which people enjoyed or struggled with.
Find out more here: http://www.cs.ox.ac.uk/challengeclub/
---

Cambridge Newsletter
Cambridge Admissions Office (CAO) are launching a monthly email newsletter for prospective applicants to Cambridge! The newsletter is aimed at those applying for 2022 entry (who are currently in Year 12, or planning to apply next year), and will contain information and resources designed to support students throughout the application process. Topics covered will include:
·       Choosing a course
·       Choosing a college
·       Student life at Cambridge.
Students can join the mailing list via this sign-up form. The first newsletter will be sent out in early November, but students are welcome to sign up at any point throughout the year.
---

Leeds Virtual Medicine Taster Day
Are you interested in a career in medicine?
WAMS Taster Days offer a combination of workshops including Communication Skills, Ethics, Work Experience, and Basic Life support, together with the opportunity to talk to medical students and the admissions team to gain insight into studying Medicine. There will also be the opportunity to find out more about entry routes and alternatives to Medicine.  
Applications close on 29th October 2020 at 5pm. Successful applicants will be notified by email.  
https://www.wanttobeadoctor.co.uk/copy-of-contact-us
---

Newcastle Medicine MaD Day
Join us and other like minded year 12 students to find out more about studying Medicine at University.
You will get to:
Hear in detail about the application process and how to make your application stand out
Take part in an interactive virtual clinical demonstration
Speak to current students and staff
Further details:
The event will be held on November 23rd 5-7pm.
To book you must be in year 12.
Students should book their own place. We will then contact you to confirm your place.
Any questions should be directed to fms.studentrec@ncl.ac.uk
Deadline to book is: November 19th 2020 5pm
---
Northumbria Physics Experience Week
Our colleagues in NUSTEM have just released an exciting opportunity for Y12 students who are interested in studying Physics at university and taking part in research at university level. Physics Experience Week will take place between 15th-19th February 2021. This event will include some projects from the Physics Department at Newcastle University.  Students can find out more about this opportunity and apply below:
https://nustem.uk/physics-experience-week/
---

Dr OJ'S Thursday Surgery Course
For students aged 14-18 interested in careers in medicine or healthcare, we are hosting online certified work experience sessions where students can interact and learn from interesting NHS cases with our resident doctor OJ, an NHS doctor working in London & who featured in the BBC series, Junior Doctors.
Taking place at 6pm every Thursday in November, doctor OJ takes students through interesting cases he has encountered over the years and explains to students how they can use the material in their university applications and interviews. Recognised by universities as work experience, we'll provide students with a certificate at the end of the full course.
There is no charge for students to access to the first session. Visit https://www.premedprojects.co.uk/dr-ojs-thursday-surgery-live-every-thursday to sign up!
---

Next Step York
Next Step York is a personalised activity programme for Year 12 students in the North of England, providing an opportunity to explore university options and receive specialist support with their current studies. It is aimed at pupils who have the potential to progress to university but have experienced barriers that may prevent them from accessing higher education.
Sign up here
---

Durham University: St Chad's College Scholarships
Dr Joe Cassidy Memorial Bursaries: Thanks to the generosity of alumni, St Chad's College will award two Dr Joe Cassidy Memorial Bursaries, worth £1500 for each year of a three or four year degree programme, to students entering the College  at Foundation Level or Level 1 in the 2021-22 academic year.
Shattock Family Scholarships: Thanks to the generosity of  alumnus Matthew Shattock and his family, St Chad's College will award two Shattock Family Scholarships, worth £1500 for each year of a three or four year degree programme, to students entering the College in the 2021-22 academic year.
The Sandi Russell Memorial Undergraduate Scholarship: St Chad's College will award ONE Sandi Russell Memorial Undergraduate Scholarship, worth £1500 for each year of a three or four year undergraduate degree programme, to a student entering the College at Foundation Level or Level 1 in the 2021-22 academic year.
---

Sunderland University Creative Careers Week
Monday 2nd – Friday 6th November
This November we are running a Creative Careers Week where students can explore the range of subject we offer within our Faculty of Arts and Creative Industries. Students will get the chance to explore the subjects we offer though taster sessions, live talks, live chats service where students can talk to current students, videos, articles and more.
---

Professor of Poetry Lecture
Live Online Event: Line by Alice Oswald: Thursday 12 November 2020, 5.00pm-6.00pm​
 This event is free and open to all. It's fifty years since the publication of From the Life and Songs of the Crow (by Ted Hughes). This is a lecture about lines and other sound barriers and how Crow flies straight through them.
Watch here.
---

Cambridge University Engineering Society 
From Monday 26th to Friday 30th October 2020, Cambridge University Engineering Society will host an Online Access Week for prospective students who are interested in engineering.
Activities include admissions talks and lectures by Cambridge academics, as well as a Q&A with current undergraduates and a problem-solving session.
Content will be uploaded online over the week and can be accessed at any point after this.
http://www3.eng.cam.ac.uk/outreach/CUES-Access-Day/accessweek.html
---

History now! 
The History Now! series has been organised between the Gala Theatre and the Durham University History Department. Because of the pandemic all of these events will take place online via Zoom. All are welcome to attend these public talks. To register and join the sessions, please click the registration links that accompany each event.
Black History Now!
Tuesday, 20 October 2020 from 17:30-18:30
Register here
Black History Now! is a panel discussion that explores the state of the field at a time when movements such as Black Lives Matter and Rhodes Must Fall have urged teachers, researchers, and a wider public to rethink the place of black history in schools and universities. It features Miranda Kaufmann, author of Black Tudors: An Untold Story (2017),  Jason Arday, author of The Black Curriculum: Black British History in the National Curriculum (2020), and Anne Heffernan, author of Limpopo's Legacy: Students & Democracy in South Africa (2019).
Autumntide of the Middle Ages
Monday, 9 November 2020 from 17:30-19:00
Register here
This panel discussion celebrates the publication of a new and unabridged English translation of a major work of history and world literature, Johan Huizinga's Autumntide of the Middle Ages, still considered one of the most perceptive and influential analyses of the late medieval period. The session includes short talks by the editors – Anton van der Lem, 'The Historian as Public Intellectual: Johan Huizinga, 1872-1945'; Graeme Small, 'Autumntide of the Middle Ages: History as World Literature'; Diane Webb, 'Translating Huizinga' – followed by a Q&A.
Nazi Elite-School Exchange Programmes with British Public Schools during the 1930s, a talk by Helen Roche
Monday, 23 November 2020 from 17:30-18:30
Register here
Between 1934 and 1939, pupils from the National Political Education Institutes (aka Napolas), the most prominent type of Nazi elite school, engaged in exchanges with boys from British public schools, including Harrow, Rugby, Westminster, and Winchester. The Napola pupils were supposed to act as 'cultural ambassadors' for the Third Reich. Using contemporary documentary evidence and eyewitness testimonies from former pupils on both sides of the Anglo-German divide, this lecture will explore the changing attitudes of participating English and German boys during this period. Helen Roche is the author of Sparta's German Children: The ideal of ancient Sparta in the Royal Prussian Cadet Corps, 1818-1920, and in National Socialist elite schools (the Napolas), 1933-1945 (2013). Her second book, a comprehensive history of the Napolas, the Third Reich's most prominent elite schools, is forthcoming with Oxford University Press.
Monuments and Memory
Monday, 7 December 2020 from 17:30-18:30
Register here
This panel discussion focuses on public monuments and their role in history and memory, featuring members of the Durham University research cluster on Landscape and Environment and chaired by Charlie Rozier, author of Writing History in the Community of St Cuthbert, c.700-1130: From Bede to Symeon of Durham (2020).
---

Aim for Oxford
Would you like to explore fascinating subjects with university researchers, experience academic and social life at Oxford University, receive expert advice on how to apply and be supported throughout the process?
Aim for Oxford is a new free-of-charge programme for Year 12 students attending state schools in the North East of England, organised jointly by St Anne's and Christ Church Colleges.
Participants will attend academic enrichment, information and guidance sessions hosted at Newcastle Sixth Form College across four dates between January and April 2021, followed by a four -night summer school at Oxford University (15th-20th August 2021). Participants who decide to make applications to Oxford will then progress to the Year 13 programme (September 2021 onwards).
Sign up by 11th October
www.st-annes.ox.ac.uk/study-here/undergraduate/working-with-schools/aim-for-oxford/
---

Sunderland University: Online Open Days
Explore teaching, nursing and paramedic practice
Sign up here
---

OxNet
Applications for Oxford University's outreach programme are now open. Oxnet is a one-year intensive academic programme for Year 12 pupils. You will be working with world-class academics on a programme of your choice – STEM, Philosophy and World Religion, Modern Languages, Humanities and Social Sciences, 'The Ordered Universe'
Deadline: Monday 9th November, 9am
https://www.oxnet.org/programmes-and-courses
---

Ethics in AI Live
An interesting FREE event for students interested in Law, Philosophy, AI and Ethics.
Thursday 15th October, 6-7pm.
---

Social Mobility Foundation
Aspiring Professionals Programme (APP)
The APP supports high achieving Year 12 to access top universities and careers. We offer support through our four pillars:
Mentoring by a professional
Tailored skills sessions and career workshops
University application support and guidance
Internships with top employers
Students must apply by 12 noon, Wednesday 16th December 2020 by completing our application form here.
Attend a webinar to find out more
www.socialmobility.org.uk/webinars-students/
---

Northumbria NUSTEM Evening Lectures
---

Sunderland Literature Festival
Thursday, October 1, 2020

 to 

Saturday, October 10, 2020
Join Sunderland Libraries' Literature Festival 2020 Online from 1 to 10 October and enjoy a wide range of exciting events for all ages.
The programme features film clips, workshops, taster sessions and storytelling from some favourite local authors, new writers and illustrators.
https://www.seeitdoitsunderland.co.uk/sunderland-libraries-literature-festival-2020
---

Sunderland University Social Sciences Discovery Day
Sunderland's Social Sciences Discovery Day will be running again this year on 21 October.
Due to the current climate, the event has now been moved online. This means students have the unique chance to engage with a variety of subjects from the Social Sciences selection offered here at the University of Sunderland.
These subjects cover a number of hot topics, which affect us in our day-to-day lives. Our academics have designed some individual taster sessions for students; making them think differently about the world we live in. To reiterate, this event is ran completely online and will have some live academic involvement.Sunderland's brand new new BSc (Hons) Professional Policing has now been added to this event.
Students can take part in as many tasters as they like during this event and the subjects represented in are: Childhood Studies, Community and Youth Work, Criminology, Health and Social Care, Policing and Sociology.
---

Hull York Medical School – Medicafe 
Session Five – Before you submit your application…
Tuesday 13th October – 5pm
In this session we'll be going over the key last steps before you send your application off to your chosen medical schools.
Come along to receive expert advice from Admissions staff and Student Ambassadors, and ask any final questions you might have before you click send!
Mainly focused for students applying to Medicine in October
https://www.hyms.ac.uk/medicine/open-days-fairs-and-online-events/medicafe 
---

Oxford University Chemistry Events
KS5 Chiral Chemistry Workshops
This workshop focuses on the 3D shapes of molecules, what the word 'chiral' means, the importance of chiral molecules in biology, and about the resources available to research chemists looking at proteins, and in particular current research focused on the main protease in SARS-CoV-2, the virus responsible for the current pandemic.
KS5 state school chemistry students may attend without a teacher, provided the student registers with a valid school email address and provides a teacher contact.
'Ask a Research Chemist' – A super-curricular series for KS5 students
KS5 state school chemistry students are invited to sign up for a series of enlightening talks over the coming Michaelmas Term 2020.
Students will have a week to watch the talk, which will be posted online, reflect and note any questions they may have, read any material that has been recommended, before joining a 45‑minute online live Q&A session with the researcher presenting the talk.
The Q&A sessions will be held on Thursdays from 16:00-16:45 in order to minimise disruption to the school day.
Students may attend without a teacher, provided we have a teacher contact and the student signs up with a valid school email address.
'Ask a Chemist' – conversations around careers for chemists for KS1-KS5
The Royal Society of Chemistry recently launched a campaign focusing on careers in chemistry (Chemistry. Making the Difference), with useful short films, careers information and much more.
In order to promote the conversation around the careers that chemists go into, we are launching a monthly online live lunchtime Q&A with members of the Oxford Chemistry community, including current researchers, professional staff and our alumni.
These sessions are open to interested to all students (from KS1-KS5!) and teaching staff who are invited to submit questions in advance or during the session.
---
Cambridge Shadowing Programme
An amazing opportunity for students with little to no history of University in their family who have reservations about applying to Cambridge. Year 12 or 13 students can apply to Cambridge Students' Union Shadowing Scheme, with the chance to be mentored by a current Cambridge undergraduate online.
Subject Links: All Subjects
Sign up here: www.applytocambridge.com/apply
Deadline: 15th November
---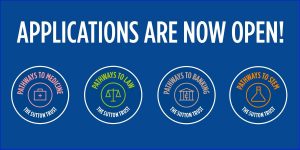 Sutton Trust Pathways
This programme provides both academic support, so that students achieve the grades needed, as well as sector-specific support, such as work placements, mentoring, networking and skills workshops.
Sign up here: https://www.suttontrust.com/our-programmes/
Deadline: 20th November
---
More opportunities will be available soon. Please check back again.